Join our rewards programme, The Circle
JOIN THE CIRCLE
Earn merchandise, free products and exclusive coffee runs

How it works
Sign up
Join The Circle and get 250 points.
Receive points
Earn points with every purchase and through special actions.
Earn rewards
Spend your points on rewards, including gift products, money off vouchers, and more...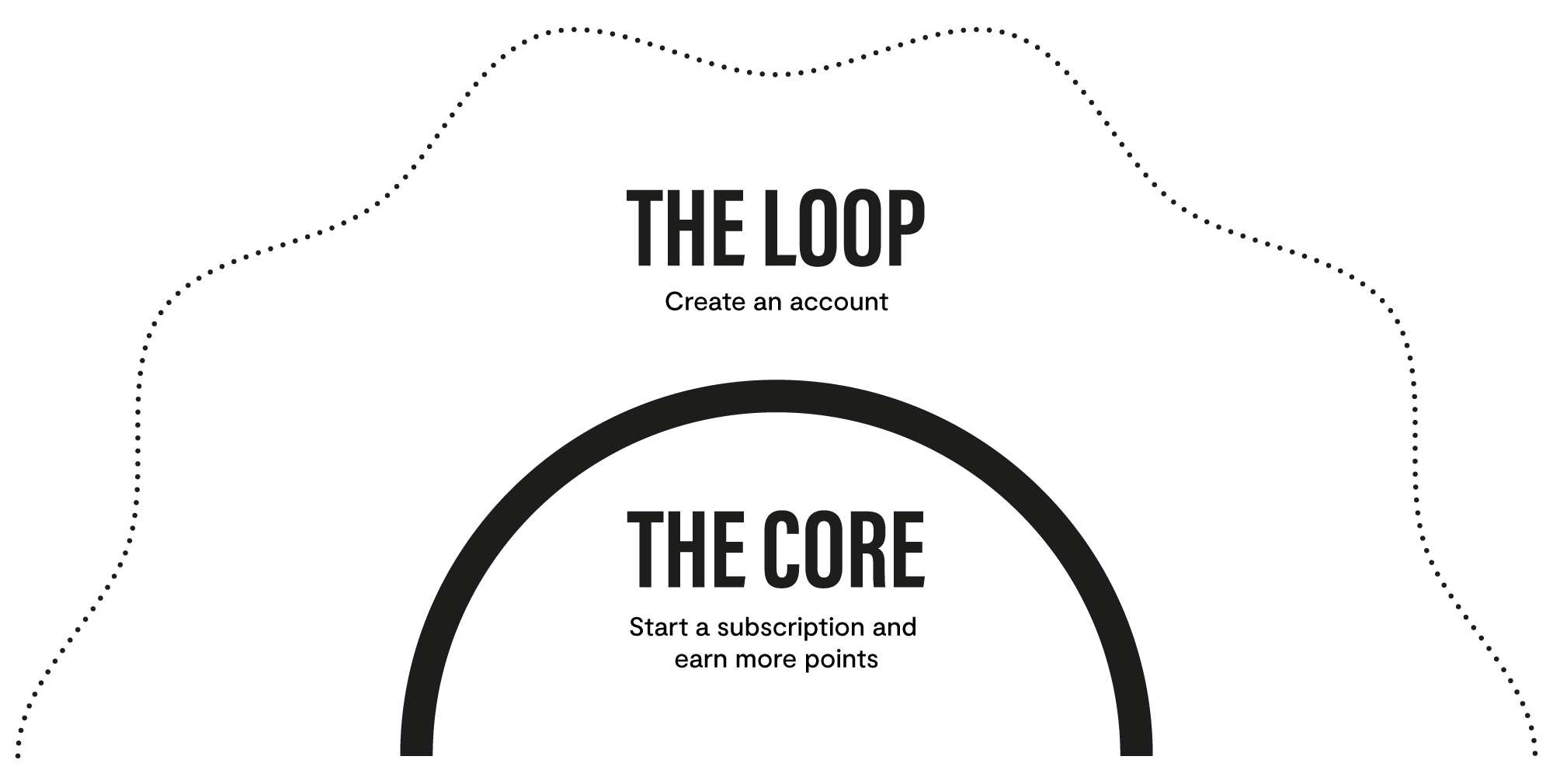 REFER A FRIEND
Share the gift of great coffee. Give a friend 15% off their first purchase and earn 500 points for yourself when they checkout.

FAQ's
What is The Circle?
- The Circle is our rewards (loyalty) programme. Here, you'll get rewarded and earn points for every purchase you make online. The more you spend, the more we'll reward you. You can also earn points for completing activities such as referring friends, signing up-to our newsletter, and much more. You can then redeem those points off rewards, which include discount vouchers, equipment or charity donations. You'll also be assigned a tier based on your spending history. The higher the tier, the better perks you'll unlock.

How do I join?
- If you already have an account, you'll automatically be signed up. If you are new to The Circle, just sign-up through the link at the top of the page.

How do I earn points?
- Earn points by making purchases or by completing activities such as referring a friend or following us on Instagram.
How do the points work per tier?
- Put simply the higher the tier, the more points you get per purchase
- The Loop: 10 points per £1 spent
- Core: 15 points per £1 spent
What are tiers?
- The Circle has 2 tiers. The higher the tier, the more points you'll earn per purchase and better perks you'll unlock. The tiers are categorised as follows:
- The Loop: Create an account
- Core: Become a subscriber.
What rewards can I get?
- Our current rewards are as follows
- £5 voucher (500 points)
- £5 off next subscription (500 points)
- £10 voucher (1,000 points)
- 100% off Espresso Trio (2000 points)
- 100% off Cold Brew (2000 points)
- £10 Project Waterfall donation (1,000 points)
- 100% off Latte Art Course (5,500 points)
How do subscribers use their reward code?
- After redeeming your reward you will be shown a code.
- Copy that code and login to your subscription through the customer account page
- Open your active subscription
- On the left hand-side they'll be an "Apply discount" tab
- Simply copy and paste the code in there and you'll receive the discount off your next subscription
How do I check my point balance?
- Just log into your account, click the rewards tab and you'll see your balance at the top of the page

How do I redeem my points?
- Select the tab called rewards. Here you'll see all the available rewards available and if you have enough points, you'll be able to use your points against a reward. Copy the code that is displayed and use it when checking out.

Will my points expire?
Points expire 12 months from either:
- Your last online order.
- The day you created an account.
Do in-store transactions, count towards extending my point expiry?
- No. This is a system limitation that we are trying to resolve. You must place at least one online order every 12 months, or risk losing your points.
I ordered earlier this year, how do I get my points?
- Rewards was launched on September 14.
- To celebrate this, we rewarded any customers who had purchased with us 120 days before that date, with a special launch promotion point gift.
- Any purchases before that will not have been counted.
- Moving forward, your points will expire 12 months after your last purchase.
What does approved, pending and cancelled status mean?
- Points can be in different states depending on your purchase date and actions.

- Points approved: these are points that the customer has available to spend right away.

- Points pending: points that are currently going through an approval period. Once the approval period is finished, these will become approved points. Our approval period is 14 days from purchase

- Points cancelled: points that will not be added to your account. This will happen if you cancel a purchase (the points will change from pending to cancelled).
I placed an order but don't have an account yet, can I claim my points retrospectively?
- Yes. We've given you 1 month to claim your points after purchase if you haven't created an account. After that time period, your points will expire.
I completed an activity but my point balance hasn't updated?
- There can sometimes be a slight delay between completing activities, and points being updated to your profile. If it takes longer than 5 business days, just email our Customer Service team on info@origincoffee.co.uk

How does free shipping work?
- Free shipping only applies to your subscription. Any additional orders will fall under our standard shipping terms and costs.
How does refer a friend work?
- Share your custom url through the dashboard above with your friends and family. They'll get a £5 voucher off their first purchase, and you'll be rewarded with 500 points (£5) for the referral.

- Your points will be classified as pending, until the approval period (7 days) is completed.

- If your referral cancels or returns their order, your points will become cancelled and will be removed from your account.

- You can share the link as many times as you want, but not with any affiliate partners.
What are quarterly drops?
- Each quarter, we will reward our Core tier with a random reward. They will be notified via email and can redeem it through the rewards tab.
- You must be an active subscriber for at least 30 days to receive the drop
Got any questions?
- Please email our Customer Service team on info@origincoffee.co.uk and we'll be happy help

Can I use two discount codes at once?
- No. Our system currently only allows one discount to be used per order.
Is the a threshold for reward vouchers?
- Yes, you need to spend a minimum of £20 when using £5, £10 and £20 vouchers.
- This doesn't apply to subscription vouchers.