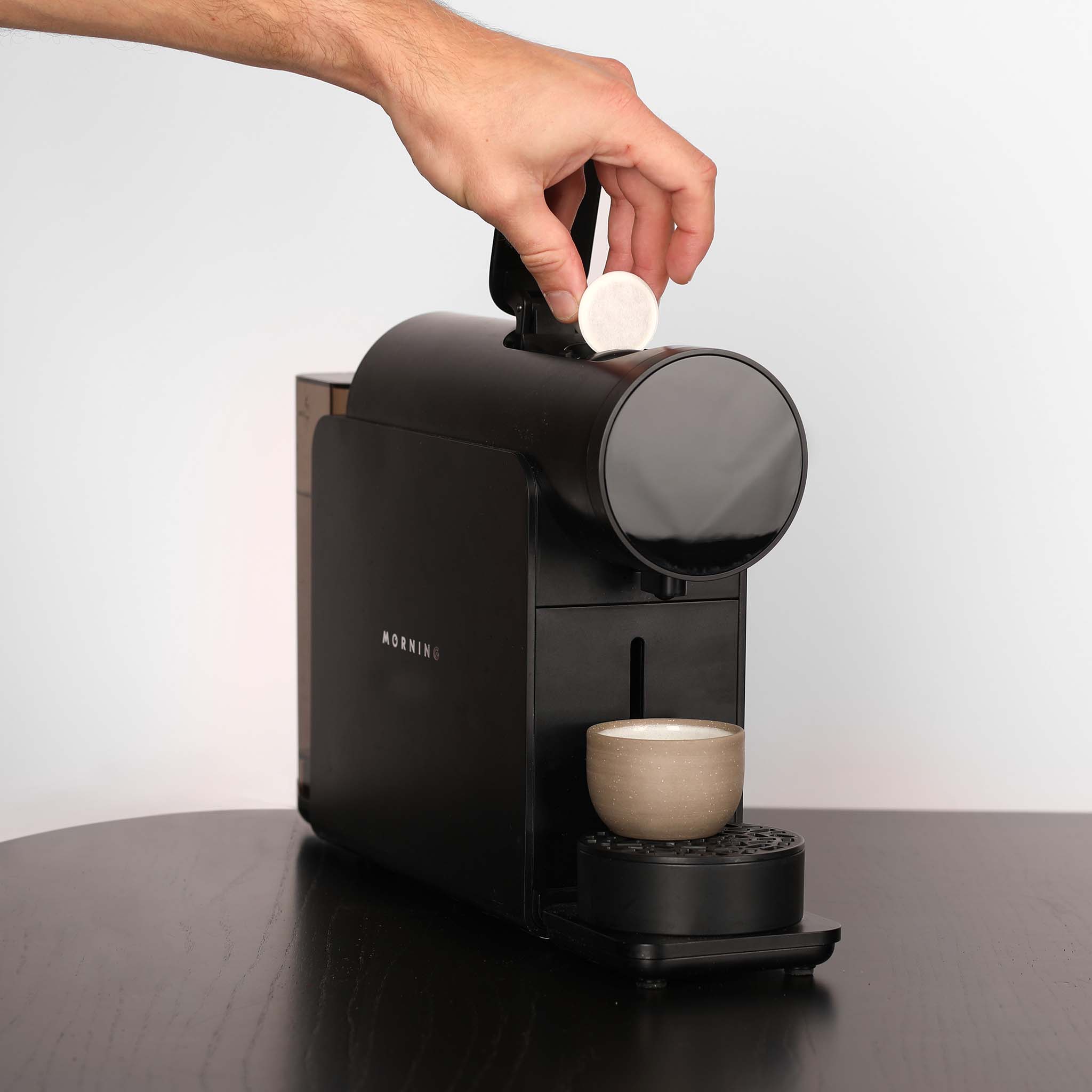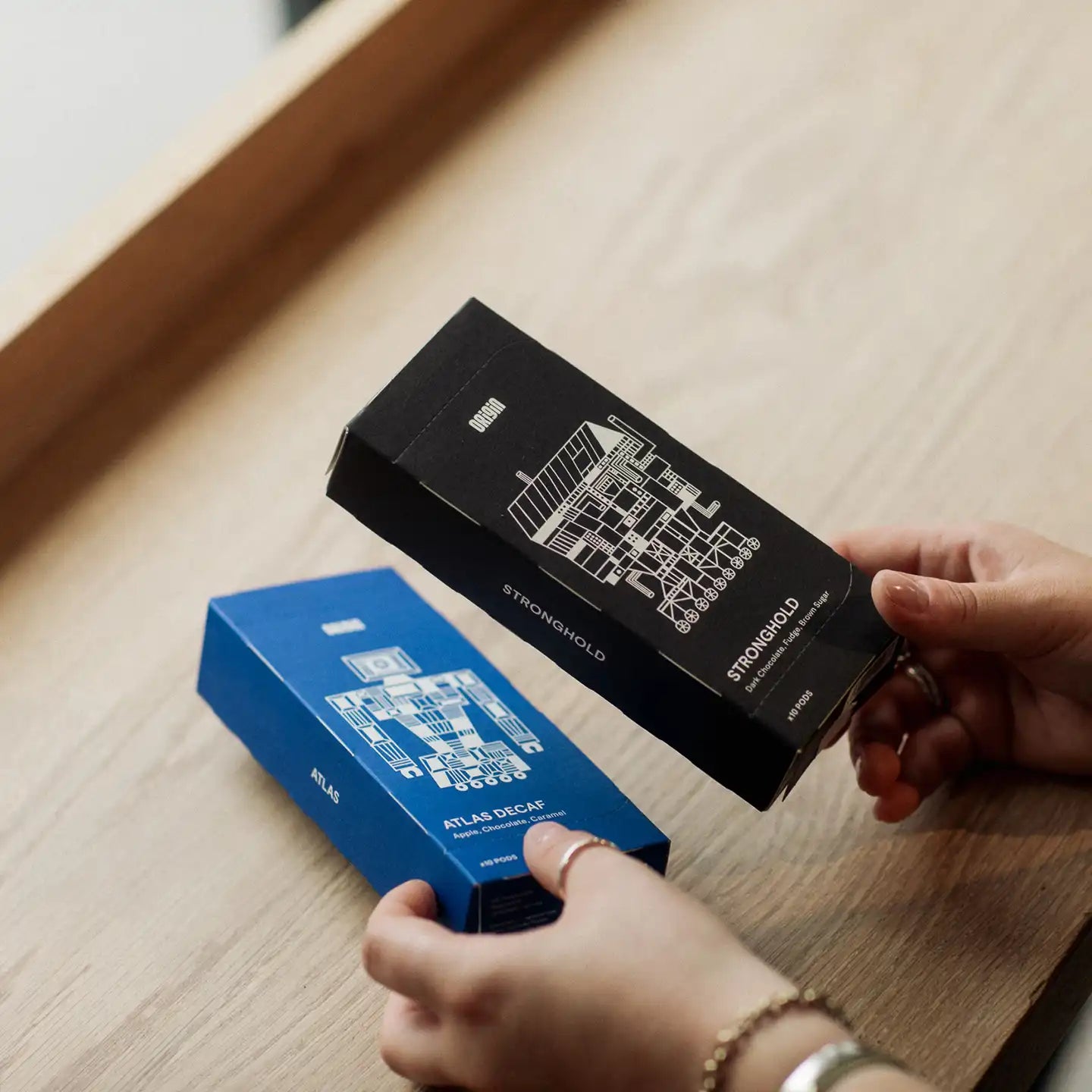 Morning Coffee Machine
£349.00
The Morning Coffee Machine represents the future of pod brewing.
Elevate your home experience with precision-brewing technology and get the most out of your pods. This machine has been built to elevate the home coffee experience. With precision-controls that draw out the nuances of each brew, delivering coffee that tastes exactly the way it's supposed to. In a convenient format that is both intuitive for the everyday drinker, and empowering for the home barista.
--
BUNDLE UP 
Bundle up and get 30, 60 or 100 pods
Shop the bundle - here
Key Features
PRECISION-BREWING CONTROLS
The Morning Machine, with PID temperature, scale and pressure profile, enables the home coffee drinker to enjoy better-tasting capsule coffee - Elevating the home coffee brewing experience. Features include the Machine's flagship recipe, with a built-in Bloom stage (pre-wet/infusion) before the brew resulting in a stronger brew.
MOBILE CONNECTED CONVENIENCE
The Morning Machine is the first connected capsule coffee machine. The Morning App dashboard allows you to set temperature, pressure and water output within a decimal point's variance to create capsule-specific recipes that can be saved and repeated.
PLATFORM FOR DISCOVERY
Alongside our pod range, the Morning Mobile app aggregates recipes from other top roasters around the world at your fingertips. Subscribe to your favourite roasters or discover new options through our personalised recommendations via the Morning Marketplace.
READY TO BREW RECIPES
Combining the convenience of capsule coffee with barista-approved precision controls, the Machine comes with 10 "Ready-To-Brew" recipes to deliver the perfect brew at the touch of a dial.
INTERATIVE INTERFACE OLED
Screen coupled with the dial mechanism allows intuitive interaction with the Machine's features.
WEIGHT BASED BREWING
With in-built scales, the Machine utilises output readings to have real-time control over brewing.
WATER QUALITY
The Morning Machine is the only non-commercial capsule machine with a TDS reader, allowing you to monitor water quality - which is essential for coffee brewing.
TEMPERATURE PRECISION
Two thermosensors, coupled with a customised PID (Proportional Integral Derivative) algorithm and NTC sensor that ensures water temperature is accurate to 1.5°c.
Technical Specification
| | |
| --- | --- |
| Size & Weight | 40.2cm (L) x 10.2cm (W) x 25.5cm (H), 4.5kg |
| Adjustable Cup Heigh | 15cm (with drip tray), 25cm (without drip tray) |
| Water Tank Capacity | 850ml |
| Used Capsule Bin Capacity | 8 - 10 capsules |
| OLED Interface | 128x32 display |
| Buttons and Interactions | 2 Capacitive Buttons. Rotatable Dial Selection Wheel |
| Electricity | AC220-240V 50-60Hz 1200-1300W; AC120V 60Hz 125 0WPump 20 MPa, 120V, 60Hz or 230V, 50Hz |
| Max Pressure | 20 Bar |
| Connectiivty and MCU | ESP-32 with Built-in Wi-Fi & Bluetooth |
| Output Control | 1g steps 1g~250g |
| Temperature Control | 75°C - 98°C, in 1°C increments |
| Capsule Compatibility | Nespresso compatible capsule |
| Mobile App | iOS devices running version 10.0 and later; Android devices running version 5.0 and later |
How it Works
Watch a short video on the Morning Espresso Machine, here